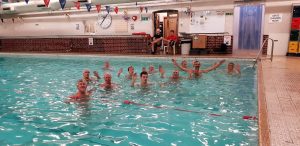 Welcome to Halcyon –
Portsmouth and Southsea's Naturist Swimming Club
This naturist club, which has been established since 1975, meets every Wednesday throughout the year.
We encourage likeminded people to take up the naturist lifestyle and are therefore always pleased to welcome new members or visitors.
Halcyon Swimming Club is a private club that is run by its members for its members with no automatic right of entry for the general public.
We are of course always pleased to see visitors and prospective members, members of British Naturism or BN-affiliated clubs, but to save embarrassment at the door, we require that you make prior arrangements by emailing or telephoning the club first. See "VISITING".
The club operates a non-discriminatory policy and welcomes people regardless of marital status, gender, race, sexual orientation, religion or belief. Due to the conditions set by the pool operators, we are unable to admit under 18s, even when accompanied by an adult.
So if you are considering a swim in the buff and would like to join us, then contact us without delay. You will be made very welcome.
We hope that you will enjoy exploring the rest of our website to discover more about Halcyon Naturist Swimming Club and look forward to welcoming you to one of our swims in the very near future.